Leung Ting WingTsun returns to Great Britian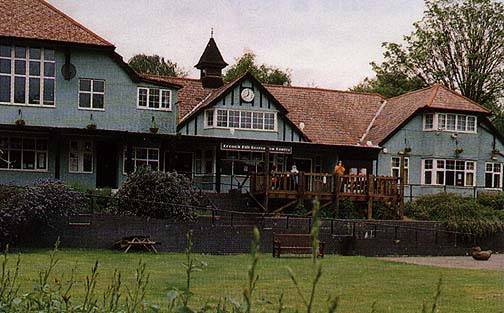 WT having gone into "hibernation" in the British Isles in recent years, Grandmaster Leung Ting charged his master student Keith R. Kernspecht with the task of revitalising WingTsun in Great Britain and Ireland. Unfortunate circumstances had severely hampered the development of Leung Ting-WingTsun in Great Britain, which was previously co-ordinated directly by Hong Kong, however WT showed that it was back to stay with a top-class 2-day introductory seminar held on 26th / 27th October at the Crouch Hill Recreation Centre. Seldom have WT and Escrima been presented to the public in such detailed, comprehensive and technically brilliant form.

The seminar was due to student demand and therefore the seminar was an introduction to the European WingTsun Organisation (EWTO) for potential GB and Irish students and instructors who wish to join. Information on the EWTO and what they represented was explained and their martial skills were presented at an excellent level.
The list of attending masters and grandmasters was like a "Who's Who" of the WT and Escrima world. For two full days they presented their martial skills at the very highest level, answered all manner of questions and gave instruction to the seminar participants during practical training sessions. Numerous EWTO-members from several European countries had made the journey to London and the Recreation Centre was only just large enough to accommodate everybody, as many British martial artists were also in attendance to satisfy their curiosity and take part in this significant event. An expectant atmosphere and lively conversation preceded the start of the event. In all 200 participants attended (excluding the instructors and demonstration teams).
| | |
| --- | --- |
| | An expectant atmosphere and lively conversation preceded the start of the event. Finally Dai-Sifu K. R. Kernspecht took the floor and declared the seminar officially open. Following a brief welcome to all the participants - especially the British contingent - and a run-down of the programme for the event, the action began. |



Sifu Heinrich Pfaff, chief instructor at the Langenzell Castle WT Training Academy, and his student Thomas Hartmann repeated the demonstration they had already given to rapturous applause at the 1997 Budo Gala in Essen.

Dressed in historic Chinese costumes they took the spectators back 300 years to a life-or-death challenge fight. As always, Sifu Pfaff demonstrated WingTsun with masterly perfection and outstanding dramatic expression.

As at the Budo Gala, the spectators showed their appreciation for this spectacular entree with a long applause.
Now it was the turn of the demonstration team from Frankfurt to give a fitting introduction to the EWTO's new area of activity, WingTsun-ChiKung. It was no easy task to convey such a complex topic in a demonstration which combined both information and action, but the students of Sifu Roland Liebscher-Bracht, the co-ordinator for WingTsun-ChiKung, had put together an impressive, action-packed show of almost 20 minutes duration which did full justice to the subject by actively illustrating the connection between WT as a fighting art and the healing effects of WT ChiKung. The demonstration was not only outstanding in its sophisticated choreography, but also in terms of its high technical standard. During a subsequent talk, Sifu Liebscher-Bracht gave a brief introduction to the history and teaching programme of WT ChiKung. WingTsun-ChiKung will be a fixed part of EWTO activities in Great Britain from the very start.
After a short break, Sifu Pfaff and Thomas Hartmann demonstrated the Lat-Sao programmes for the individual student grades. Lat-Sao was introduced into the WT training curriculum by Dai-Sifu K. R. Kernspecht in the early 80s to ensure that students are already capable of effective self-defence at an early stage in their training. Once again, Sifu Pfaff showed how effectively Lat-Sao enables even a relative beginner to employ the principles of WingTsun.
| | |
| --- | --- |
| | The advanced student also learns the appropriate tactical behaviour when confronted by several attackers or an armed assailant. Sifu Giuseppe Schembri, the National Instructor for Switzerland, gave a masterly demonstration of how a WT fighter is able to control the situation and win the day even against three attackers at once. |
| | |
| --- | --- |
| | Assisted by Joachim Friedrichs, it was then the turn of Sifu Emin Boztepe, the National Instructor for the USA and one of the future instructors for London, to give a spontaneous demonstration of so-called "non-violent restraint". In this, the most advanced student programme, the student learns to bring an attacker fully under control without the use of blows or kicks. After Sifu Emin's impressive demonstration, none of those present can have doubted that WT loses any of its effectiveness in this specialised area. |
| | |
| --- | --- |
| | Having witnessed these fascinating demonstrations, the seminar participants naturally responded with enthusiasm when Dai-Sifu Kernspecht announced a practical training session on the lawn outside the Recreation Centre. |
| | |
| --- | --- |
| | Even the EWTO-members from all over Europe had never had such an opportunity to take part in a seminar with so many highly-graduated masters. Different groups were therefore taken in hand by each instructor according to their respective levels, while Dai-Sifu Kernspecht gave the British participants a personal introduction to Leung Ting-WingTsun. As far as those taking part were concerned this could have continued all day, but time was limited and several interesting events were still on the agenda. |
| | |
| --- | --- |
| | Sifu Oliver Konig, the National Instructor for Austria, Slovakia and Czechia, had prepared a presentation about the development of the EWTO as an association. Using numerous charts, photos and sketches he illustrated the story of the EWTO from its beginnings in the Budo Zirkel Kiel e.V. in the mid-70s, right up to its current status as the most successful branch of the IWTO (International WingTsun Organisation). Interested participants were able to ask Sifu Oliver Konig questions about the structure and activities of the EWTO and were given detailed information. |
| | |
| --- | --- |
| | After this theoretical session, the participants were treated to a further demonstration of how WT may be specifically applied. Sifu Emin Boztepe used several practical examples to explain the basic concepts and principles of the system, including a detailed look at "groundfighting", which is currently a popular subject among martial artists. This was a convincing demonstration of "anti-groundfighting" - Leung Ting-WingTsun's comprehensive answer to all groundfight-related questions. Sifu Oliver Konig and Sifu Giuseppe Schembri then explained and demonstrated the training method "Chi Sao". This partner exercise develops the tactile reflexes of the WT fighter for the infight and is unique among the martial arts as a training concept. |
| | |
| --- | --- |
| | The day seemed to have flown by. Nobody had noticed that this first day of had gone several ' hours over time. For more than eight hours the British participants had experienced what was probably the most comprehensive and compact introduction to Leung Ting-WingTsun ever held, and the WT people who had travelled from all over Europe were enjoying one of the most interesting seminars they had ever attended. But that wasn't all, for Day 2 promised to be just as fascinating. |
Grandmaster Leung Ting was expected on Sunday, accompanied by a guest of honour: Grandmaster Wang Kiu, one of the oldest original students of the late Grandmaster Yip Man. By popular request and in honour of the two Chinese Grandmasters, Sifu Pfaff and Thomas Hartmann repeated their spectacular demonstration of the previous day. Following this successful demonstration, Sifu Pfaff was given the special honour of receiving his certificate as a 5th Practician - a master of WingTsun - from the hands of Grandmaster Leung Ting.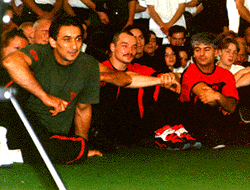 The participants then had the rare opportunity to ask personal questions of Sifu Wang Kiu. Naturally several people were interested in hearing details about the late Grandmaster Yip Man. What was he like as a person? What were his personal idiosyncrasies? What was it like to learn from him? Sifu Wang Kiu was happy to oblige and held his listeners spellbound with interesting anecdotes and his humorous narrative style. Sifu Wang Kiu also gave detailed, frank answers to questions concerning the differences between WingTsun styles. Naturally he was also asked whether Grandmaster Leung Ting really was the "closed-door student" of Grandmaster Yip Man. Once again, Sifu Wang Kiu confirmed that Grandmaster Yip Man had mentioned to him at the time that he was instructing the young but extremely talented Leung Ting as his "todai" and had accepted him as his personal student. This was when Grandmaster Yip Man had already officially retired from teaching.

Naturally those present were also able to put questions to Grandmaster Leung Ting, the IWTO World Chief Instructor, who then proceeded to explain the theory and practise of WT footwork in his uniquely clear way. The listeners were not only treated to a display of WT in the highest perfection, but also had the benefit of Grandmaster Leung Ting's unique qualities as a teacher: highly informative yet easy to understand, while providing first-class entertainment at the same time. Only a reference to the limited time available and the need to press on with the programme for the day induced the participants to release Grandmaster Leung Ting for a photo session.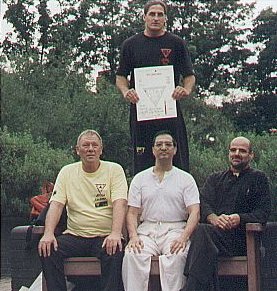 The 2nd half of the day was ushered in by Sifu Reimers and his team from Munich, who gave a realistic demonstration of WT applications which was no doubt inspired by the forthcoming Munich "Oktoberfest", as it showed how a WT fighter is able to cope with all manner of attacks even from a seated position (e.g. while enjoying a beer).
The spectators followed this dynamic demonstration with rapt attention and were then once again able to witness the rare event of a 5th Practician degree being conferred, when Sifu Hans-Jorg Reimers was awarded the title of a master of WingTsun by Grandmaster Leung Ting.

| | |
| --- | --- |
| | This was followed by a training session in WT footwork under the instruction of Grandmaster Leung Ting. Prior to a second highlight of this 2-day seminar, Sifu Henning Daverne from Denmark gave a further spontaneous demonstration of uncompromising WT applications with students from his special free-fighting class. This provided just the right entree for the next event. |
It was time for Master Bill Newman, 9th Level Escrima and Chief Instructor for Europe, to introduce his martial art: Latosa-Escrima. By way of introduction, Master Bill explained the concepts of Escrima and their application using the classic training weapon, a rattan stick, while repeatedly emphasising that the principles and training methods of Latosa-Escrima can be applied to any form of armed combat.

In recent years Master Bill has particularly concentrated on showing how the methods of Latosa-Escrima can also be applied to combat with the heavy bladed weapons used by our European forefathers throughout the ages. Training with such weapons and understanding the history of armed combat enables the Escrimador to recognise the principles of Latosa-Escrima and apply them in any combat situation. Some of those present had already had the pleasure of witnessing one of the famous demonstrations with mediaeval weapons given by Master Bill and his master student Steve Tappin, and knew what to expect: the fascination of heavy weapons wielded with a power, skill and determination which can hardly be excelled. Everybody present was suddenly made aware of what it actually meant to face an enemy with a sword, axe or similar weapon.

During the two days of the seminar, all the "newcomers" were left in no doubt that Latosa-Escrima and Leung Ting-WingTsun are among the most effective and fascinating of all the martial arts. This extraordinary event was concluded with a joint performance of the Siu-Nim-Tau, the first form in WingTsun, with Grandmaster Leung Ting. This was naturally followed by the obligatory group photograph.
The British participants had the good fortune to experience the most impressive introductory event in the history of WingTsun. What's more, they will benefit from the fact that highly-graduated instructors will be supporting and furthering the spread of WingTsun and Escrima in the British Isles: Dai-Sifu Keith R. Kernspecht and Master Bill Newman, Sifu Emin Boztepe and Steve Tappin, Sifu Rainer Tausend for Ireland and Sifu Thomas Schron for Scotland. Not forgetting Sifu Tam Yiu Ming, 4th level, who has already been teaching WingTsun in London for one year. Naturally the Grandmasters Leung Ting and Rene Latosa will also be visiting Great Britain on a regular basis to conduct seminars in future. The future looks good for Leung Ting-WingTsun and Latosa-Escrima in Great Britain.
More seminars are planned for the future and will concentrate on the practical content of WingTsun and Latosa-Escrima with question sessions to explain the history and philosophies of these two martial arts represented by the EWTO.
---
For any questions or comments, send e-mail to WT@manner.globalnet.co.uk
Copyright &copy 1999 COMBAT, IWTA and EWTO.
Click here to go back to the EWTO-GB London Home Page.